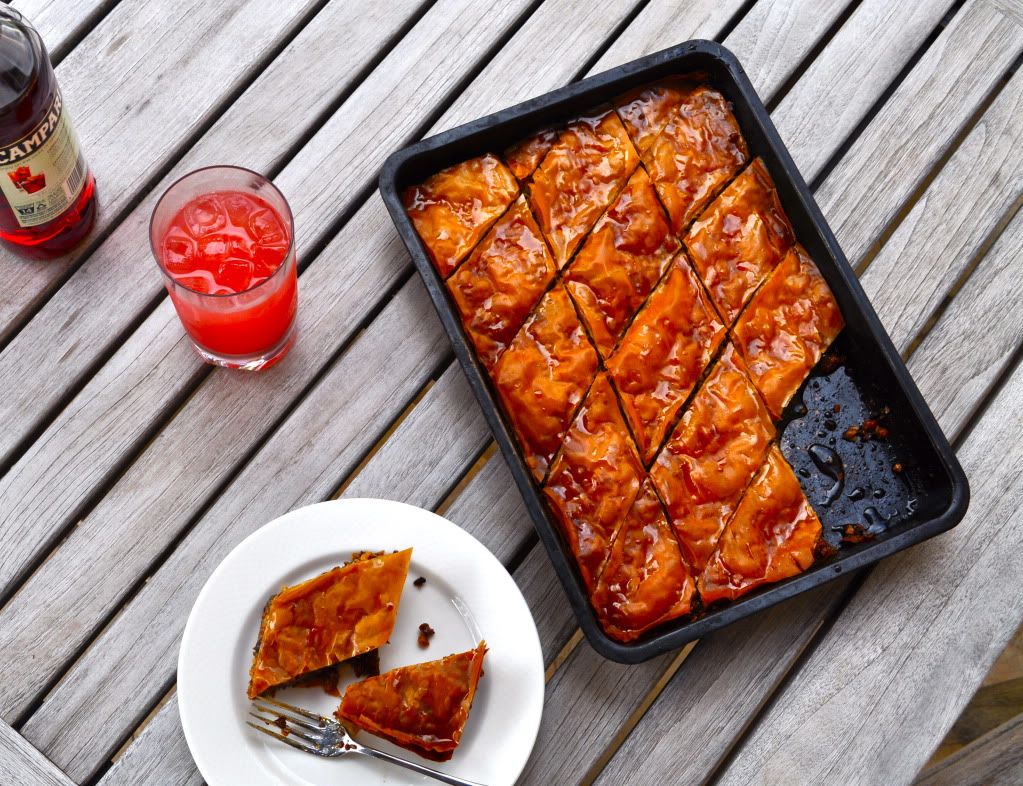 I nearly had a panic attack in Harris Farm last weekend! It was totally stupid and totally annoying for Ed, and probably really awkward for the shoppers going about their grocery business. We walked in there seriously clueless about what to make for dinner (we were staying in the country for the weekend) other than we wanted easy and we wanted healthy and we didn't want salad. I'd assumed (wrongly) that the supermarket would 'inspire' me. So, I set out and thought of... nothing. NOTHING. We walked and walked, I picked up half a pumpkin and put it back down again, toyed with some chorizo and placed it back on the shelf, looked miserably past the cheese section and
kept thinking of nothing!
The pressure was mounting and I was getting really pissed off at the situation (and myself) and I told Ed that we needed to just "get the fuck out of here!" with our lame collection of San Pellegrino, a bag of licorice and a pot of yogurt. Just as the water was being scanned through the till it occurred to me, San Choy Bow! Of course my lightbulb moment had to be one of those dishes that calls for an anal pantry and an ample
stockpile of
Asian sauces, which obviously we didn't have on hand at the farm. So I spent $40 on bloody oyster sauce and all those extra fiddly things you need but only end up using 2 tablespoons of anyway. It was alright, but so completely not worth the mental breakdown. I don't know what happened to me, maybe I'm too attached to my cookbook collection, stack of magazines and the internet to come up with anything remotely original under pressure? Man, if that had been a Masterchef challenge I probably would have burst into flames from all the anxiety. Thank you to Ed, who kindly pointed out that "baby, don't worry, if it was Masterpasta, not Masterchef, you would definitely win."
Anyway, it got me thinking back to the Easter long weekend, which we spent with a group of friends in Palm Beach. It was eaaaaasy living up there. It was the weekend of The Most Epic Steak Sandwiches Of All Time with barbecued asparagus and capsicums and an unholy amount of kick-ass garlic aioli. There was a kind of riff on my favourite lentil and sausage dish (I left half my groceries at home - idiot) and there was a tray of baklava, made on the Friday afternoon. It was slowly eaten throughout the weekend, and I'm pretty sure I ate the entire middle row to myself, which is disgusting but I couldn't help it.
It's a good and soothing process, making baklava. There is a lot of layering going on and a lot of butter. Once you get into the rhythm of it - pastry-butter-pastry-butter-nuts-pastry-butter - it's over before you know it, sitting in the oven getting all golden and crisp and giving off the most wonderful cinnamon aroma that ever was.
To mental health in the Kitchen! Cheers.
Baklava
Adapted from Alice's recipe at Gourmet Traveller and I was also inspired by one of my new favourite blogs, cuisine diplomatic.
250g each raw walnuts and pistachios
100g caster sugar
3 tsp ground cinnamon
approx 1 packet of filo pastry (depending on the size of your baking tray, I used about 2 thirds of a pack and had to trim the pastry to fit in my tray)
150g butter - clarified (to clarify butter melt it slowly in a pan over a low heat, when it is melted, spoon off all the white milk solids that rise to the surface, you just want the clear yellow liquid)
Honey Syrup
300g caster sugar
300ml water
125g honey
1 cinnamon quill
rind of 1 lemon
juice of half the lemon
4 drops rosewater, or to taste
Preheat the oven to 180 degrees C.
Pulse the nuts in a food processor until they're finely chopped and then combine with the caster sugar and cinnamon in a large bowl.
Cut your pastry to the size of your baking tray and cover with a slightly damp tea towel. Brush your baking tin with some butter and lay a sheet of pastry on top, making sure it fits well. Brush with butter again and lay another sheet on top, repeat until you have 4 layers of pastry - you want to create a stable base.
Spread a thin layer of nut mixture on top of the pastry, and lay another sheet of filo on top, brush with butter, lay on another sheet, brush with butter and then spread some more nuts on, repeat this process until you have run out of nuts, and finish with three layers of pastry and butter on top (do not butter the top of the baklava).
Refrigerate the tray for about 15 minutes or until firm, remove from the fridge and slice in a diamond pattern (like above) using a very sharp, small knife. Bake in the oven until golden and cooked through, about 30-40 minutes, covering loosely with foil halfway through if it is browning too quickly (mine did).
Meanwhile, make the syrup. Combine all syrup ingredients in a small saucepan and stir until the sugar has melted over a low heat and the flavours have infused (about 20 minutes). Strain through a sieve and set aside until the baklava has finished baking.
Cool baklava slightly and then pour over the syrup, letting it soak in and cool completely (overnight if possible). Baklava tends to improve with age, so if you're not eating it straight away, leave it covered and unrefrigerated for up to three days.